We have developed a number of general and tailored business support tools.

Whether you are sending out a mailshot, emailing a newsletter or managing a customer call, all the latest information is available to all of your team wherever they are based.


Contact Manager
Keep your customer records up to date - attach our user defined categories - create mailing lists based on categories - create and send high quality web pages as emails - automatically keep records of what you sent to whom and when

Call Management System
Log and track customer calls - assign calls and set a priority - use system reminders to ensure that things don't get forgotten - attach notes to calls so that everyone can see what is going on - and there is a summary view of all calls.

Newsletter Generator
Use the newsletter generator to create news articles - build the articles into editions and display the current edition or add articles to a web page to combine them with other items.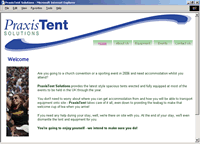 PraxisTent provide site camping facilities for major Church and Sporting events. The user can select tents and associated equipment, calculate the hire price and then request a booking. We have developed the camping application and then fully integrated it with web4work.
---